Programas de Imersão em casas de famílias chilenas
Cursos-de-Espanhol
Pucón - Bariloche Pucon - Santiago
Galeria de fotos
Pucón
Atividades
Office: Termos e Condições Gerais Dicas e Links Informações Legais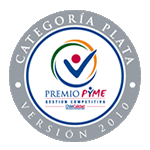 Estudantes
After each course we ask for evaluations in order to know if the student liked his classes and to improve or service.
Check the evaluations made by former students

Find some comments of former Spanish students:
Helena, April 2009: helenelovell@talk21.com
My daughter and I had a great time in Patagonia, the weather was not fantastic, but we managed some walking in Torres del Paine, ..... Apart from that it was fantastic, starting with my few days in Pucon, which I enjoyed a lot. You were a very good teacher, and I did learn a lot with you, and the family was lovely too. I have been incredibly busy since I came back, with not much time for Spanish, but I will start again soon... Hope all is well on the other side of the world, thank you again for all your help, Muchas gracias, Un saludo de Edinburgo, Helena
James Bruce, 1:1, January 2010
Excellent teacher, great learning environment. I came here knowing NADA, I leave with a head full of knowledge. I know understand a lot more, but more important I have the tools and the knowledge to get to the next level. I just have to keep talking and practicing. Thanks guys, I had a lot of fun!! from Canada (riding my bike)
Patricia Pierose, ppierose@gmail.com, 1:1 + homestay, January 2010
For two weeks I stayed In Pucon and worked most days with Karin Malonnek last winter. It was important for me to be able to speak Chilean Spanish, and I thought I would be good to study in Chile. The school and its personnel were an excellent choice. First of all my home stay was terrific. My host, Silvana Curihual took such good care of me. We played cards and watched T.V. and movies in Spanish and she prepared great meals. Her husband Israel and her daughter were also helpful with Spanish and anything else I needed to know. Pucon is a town in which one can walk everywhere. The weather was mostly wonderful…flowers everywhere. Studying one on one was the perfect way for me to learn. Working with Karin every morning was so worthwhile. We spoke in Spanish (what Spanish I began with), and she provided me exercises every day to help me learn vocabulary, verb tenses and sentence structure. I filled three notebooks! Karin was friendly and experienced and we had conversations in Spanish about our families, cultures and schools and even a little politics. As a former teacher, I understood why she was having me do certain things which made study even more interesting. She was prepared for me every day. The new facility was so pleasant, light and airy. The secretary and other teachers were friendly, helpful and professional. I will be back next winter!
Cyndy and Denis, first students, now residents in Pucon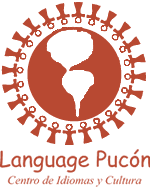 The Language school in Pucon
Cyndy and Denis , students in 2008-09 and now residents in Pucon
After visiting beautiful Chile for the first time, we realized that we needed to improve our Castellano before we could truly enjoy the country. We searched for a school far away from the chaos of Santiago, preferably in a scenic location with options for cultural and outdoor activities. We could not have found a better place than Language Pucón. Not only did our language skills improve greatly, thanks to the careful guidance of our teacher Gloria, but we also learned so much about the culture, customs, geography, and history of Chile and the Araucania region. We also met many wonderful friends, either associated directly with the school or studying there. In fact we loved our visit so much that we eventually moved to Pucón to enjoy this special place all year round. One last thought, many people flock to Pucón during January and February, but we've always found the off-season more relaxed and equally beautiful.

Ann Berry, 1:1 + Homestay, January 2010
I spent three weeks in January 2010 at Language Pucon. Karin made the arrangements for my studies and home stay and provided guidance in all things related to my stay in Pucon. I had private lessons with Carolina Angelbeck, a highly skilled teacher. She used materials Karin had prepared as well as her imagination to ensure stimulating, effective, fun sessions. My homestay was with the Curihual family who live a few blocks from the school. Monika and Armador welcomed me warmly and included me in a number of their family activities. A highlight of that homestay was a trip to their country home. Following my stay in Pucon, I spent a day in Santiago, riding the subway and visiting the Museum of Fine Arts, taking a museum tour in Spanish. As a result of my studies at Language Pucon, I was quite comfortable traveling in Chile on my own. I especially appreciated Karin's flexibility in meeting my needs. I recommend highly the school for anyone who would like to improve their ability to speak Spanish.

Language Pucon, your place in Chile to learn Spanish abroad
Language Pucon, Pucon, IX Region, Chile, Uruguay 235, Tel.: +56452444967 (english spoken), spanish@languagepucon.com
All information about the language school, the spanish courses , and our home stay program as well as everything about the Spanish + programs, the housing options meanwhile study abroad and the prices for Spanish courses ,how to contact us for Spanish courses and things about Pucon/Chile you will find here.
©2000- Language Pucon, learn Spanish in Chile, Southern America